Apply
---
When applying for admission to The International Management Institute, applicants must submit a completed application form. Non-native English speaking applicants have to prove adequate English proficiency.

Non-European Union applicants must apply for a student visa and must have financial guarantees in the form of letters from sponsors and bank certificates.


Application Facts and Dates
For both our Postgraduate and Undergraduate Programmes there are three intakes every year in January, June and September.
Registration
must be completed in accordance to the procedures as determined by the administration and after the process is formally endorsed/completed, fees would not normally be refunded.
The applicant understands the regulations set by the insititution related to the application process and by applying he/she undertakes full responsibility to abide by the set rules.
How to Apply?
1) Step #1:
Download your application form

2) Step #2: Print the form
3) Step #3: Fill out the form;
4) Step #4: Mail the form*
5) Step #5: To pay online Fee
Click here
*
*Students outside the European Union (UK, Asia, Africa, Australia and USA) can mail their applications to:
admissions@timi.edu
*European Union students can mail their applications to:
info@timi.edu
ALUMNI SPOTLIGHT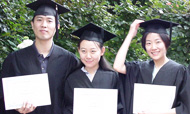 "We choose to study at TIMI because first of all, the environment is very conducive and suitable for both teaching and learning. Secondly, they have very good teachers who are very accommodating. They take their time to explain courses and also answer all our necessary questions. Lastly, the small number of students in each class allow us to be able to interact and understand more".
Grace Asiamah
(TIMI - Antwerp)