Fellow of TIMI (TIMI's PhD level programme)
---
The Fellowship Programme at TIMI
is offered in
A. Entrepreneurship and all areas related to entrepreneurship
B. Management and all areas related to management
C. Social Sciences and Arts
D. Economics
E. Industrial Engineering

Students who successfully complete their research fellowship from TIMI (comparable to PhD of universities) are given the title of Fellow of TIMI (F.I.M.I.). The fellowship programme at TIMI is done off campus with basic programmes on research methodology imparted on campus or through an online mode. Every fellow is assigned a guide who guides him/her throughout the duration of minimum 2 years to a maximum of 6 years of the fellowship duration.

The fees for the fellow programme at TIMI is Euro 24000.

Every year TIMI offers honorary fellowship to people who have done exemplary work in the above mentioned areas of TIMI fellowship programme. Special focus areas are Leadership, Brand Building and Global Equality. While TIMI honorary fellowship is by invitation only leaders, brand builders and social change makers may however send their bio-data for consideration to the TIMI fellow programme committee. In certain cases they might be required to submit their research work that can be considered for the same.

The fees for the evaluation of such research work is Euro 12000.

This programme can be done completely on an online / correspondence mode. The fees for the same will be Euro 8000.

ALUMNI SPOTLIGHT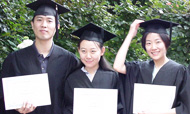 "We choose to study at TIMI because first of all, the environment is very conducive and suitable for both teaching and learning. Secondly, they have very good teachers who are very accommodating. They take their time to explain courses and also answer all our necessary questions. Lastly, the small number of students in each class allow us to be able to interact and understand more".
Grace Asiamah
(TIMI - Antwerp)