Post Graduate Diploma in Management, Fees, Scholarships
---
1. Six month Global Diploma flexi learning mode.

This programme is only for students who have already done a one year degree/diploma programme in management or equivalent. Students have to submit genuine proof of the same to be eligible for admission.

Option A - Fees: 8000 Euro. It is a 756 hour programme.

Students have to do a 252 hour programme through a contact/ online mode over one year with another 504 hours of guided project work. Contact classes are currently offered only in Brussels. Students who opt to do it from other countries have to choose the online mode to finish their mandatory hours required for student teacher interaction.

This programme can be done completely on an online / correspondence mode. The fees for the same will be Euro 8000.

Option B - Fees: 5000 Euro (after deducting a SCHOLARSHIP of 3000 Euro). It is a 567 hour programme.

This is a special SCHOLARSHIP cum credit transfer offer only for students who have done a Post Graduate Programme in Mangement or equivalent studies already of min one year duration from a Business School that imparts education of world class standards as per TIMI guidelines. All the top 20 ranked business schools of the USA Today, Business Week, Economist and Financial Times ranking fall in this category. This is a unique initiative of TIMI to spread its philosophy and education across the globe by encouraging students to enroll for its programmes.

Institutions who believe that the education they impart is of world class standards but not ranked so highly, can apply to TIMI's Post Graduate and Fellow Programme Committee for accredition of its programmes so that their students can automatically get the special scholarship in the case they want to add the TIMI diploma to their qualification.

In this option students can get TIMI's Post Graduate Degree in Management upon completion of an additional 189 hour three month module of TIMI from their country of residence through contact /online mode! Students have to do additional project work/on the job training etc, during the rest of the 3 months.

This programme can be done completely on an online / correspondence mode. The fees for the same will be Euro 8000.

Further details for both the above options.

• Both the above option costs include a Laptop that is provided to all students upon receipt of the entire fees.

• Upon successful completion of the Programme students get

• Post Graduate Diploma in Management from TIMI, Brussels.

• Though the TIMI module can be completed at any point of time, the diploma is provided only two years after a students graduation since TIMI considers the rest of the time spent in career and academic pursuits an equally important ingredient for this rare fast track option that is provided to students.
ALUMNI SPOTLIGHT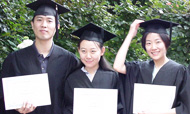 "We choose to study at TIMI because first of all, the environment is very conducive and suitable for both teaching and learning. Secondly, they have very good teachers who are very accommodating. They take their time to explain courses and also answer all our necessary questions. Lastly, the small number of students in each class allow us to be able to interact and understand more".
Grace Asiamah
(TIMI - Antwerp)