The Learning Perspective
---
Our mission is to empower our students with the necessary skill sets and knowledge required to compete in the future. Our unique learning platform helps them to understand different managerial models and learn about the critical success factors associated to it. The focus of our curriculum is to enhance the learning perspective of our students through customized modules and simulation exercises, developed and delivered by globally renowned academicians and professionals.

Our students are exposed to a variety of subjects related to various functional areas in management. These subjects, in sync with the exhaustive training imparted, help in developing niche skills related to the respective management fields. Every individual undertaking the Programme necessarily specializes in a particular stream which enhances his/her ability to compete in the global environment. This also opens up various career options for the students to pursue in future.

At TIMI, industrial and corporate visits is an integral part of a student's overall development. These visits allow students to appreciate and comprehend a subject better.

We periodically organize seminars and symposiums with the core objective of exposing our students with the ongoing current developments in the management arena.

Once a year, The International Management Institute organizes a cross-cultural business tour to the emerging economies to sensitize our students with the new market realities.


ALUMNI SPOTLIGHT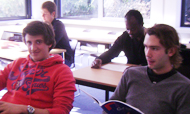 "We are fortunate to find TIMI as it offers a wide range of interesting business courses.
Compared to other universities, TIMI has a warm environment with many students coming from different nationalities and backgrounds.
We would certainly recommend TIMI as we have been very pleased here and feel that we have the right set of skills when going into the business world".
Konstantinos
(IMI - Brussels)