Facilities
---
Cafeteria
The students have access to a professionally managed cafeteria, which serves a wide range of scrumptious cuisines, beverages and snacks from its centralised serving zone. The cafeteria also serve as a melting point for various ideas and business plans, which the students discuss over a cup of cappuccino or debate on the global political and economic downturn.


Technology Environment
The TIMI campus has a separate IT lab for students to access the global communication gateway, round the clock. This lab is used for various lectures in computer application while students use it during free periods to work on their projects or write their essays.


Student Resource Centre
Students at TIMI have access to a wide and diversified array of books, periodicals, journals and business magazines at the institute library.. The Wi-Fi enabled environment also empowers them to access information and undertake research projects which form a core part of the curriculum.


Accommodation
The International Management Institute offers attractive off-campus dormitories for its students. On special requests, TIMI also helps students find appropriate independent housing in the city.


ALUMNI SPOTLIGHT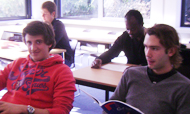 "We are fortunate to find TIMI as it offers a wide range of interesting business courses.
Compared to other universities, TIMI has a warm environment with many students coming from different nationalities and backgrounds.
We would certainly recommend TIMI as we have been very pleased here and feel that we have the right set of skills when going into the business world".
Konstantinos
(IMI - Brussels)