Our Community
---
The International Management Institute boasts of its diverse student body representing different nationalities and cultural backgrounds. The interactions between them at IMI leads to complete understanding of diverse perspectives and appreciation of distinctive philosophies. The students represent different nationalities which help foster community spirit in the campus and debate country specific issues and their respective solutions.


Social Clubs and Activities
The Social Club is a vital part of The International Management Institute to build non formal relationships amongst students. The institute has its own student association with official representatives elected by the student body.

The official representatives are in charge of organizing periodical social, cultural, sports, and educational events. The clubs through their respective events provide a unique platform for exploring new areas of interest and thereby enhancing their social networking skills required for leading diverse communities.


ALUMNI SPOTLIGHT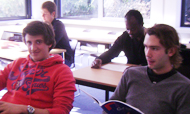 "We are fortunate to find TIMI as it offers a wide range of interesting business courses.
Compared to other universities, TIMI has a warm environment with many students coming from different nationalities and backgrounds.
We would certainly recommend TIMI as we have been very pleased here and feel that we have the right set of skills when going into the business world".
Konstantinos
(IMI - Brussels)