Testimonials
---
"The school's dedication to cross-cultural business education signifies its unique understanding of the new global marketplace. As a Filipino-American, I am already a product of this new "cross-cultural reality", which presents lots of unique and exciting learning opportunities. One needs to look no further but simply peruse the ethnical and cultural diversity of this school's student body: it is indeed a good representation of the world. Within this unique global academic framework, the institute's rigorous business curriculum becomes very relevant."

(Student from the Philippines)


Why pursue a Management Programme with us?
"For me it's easy: a strong practical business curriculum, an international student body, and an opportunity to study and learn in the heart of Europe, constitute the key ingredients in which I want my MBA experience defined!"

(Master's (MBA) student from the USA)


Why pursue a Graduate Programme with TIMI?
"I would like to thank everyone personally for the warm and cordial assistance received while studying at your institute. I am sure my Programme would not have been so fulfilling without your help. I was amazed that I accomplished so many things during my stay: attending classes, meeting lecturers in- and outside the classrooms absorbing knowledge and information, my company internship, the various extra-curricular activities organized by the school, etc. I was impressed by the individual approach and attention instructors pay to their students. The institute is highly recommended to prospective applicants as a school, devoted to quality business education in a friendly and family oriented setting."

(Graduate from Russia)


Why study at our independent privately held international business school in Europe?
"In addition to a unique "multi-cultural" environment, I choose this school because I believe its curriculum is up-to-date and comparable to the best business schools in Canada. The school can offer me an excellent business education in a truly international setting. Studying in Europe will not only add value to my qualifications, but will also help me with my personal development."

(Master's (MBA) student from Canada)

"Apart from really enjoying the classes and the way you organized them, they really set off my interest in supply chain management and the influence of IT and the Internet in the "new economy" world. Also, I absolutely loved playing your business strategy game. In this computer based simulation exercise I gained hands-on experience in crafting strategies, making business decisions, and being accountable for the financial performance of the firm I managed. Great experience! Thank you!"

(Master's (MBA) student from Belgium)


ALUMNI SPOTLIGHT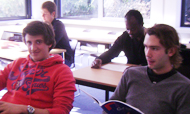 "We are fortunate to find TIMI as it offers a wide range of interesting business courses.
Compared to other universities, TIMI has a warm environment with many students coming from different nationalities and backgrounds.
We would certainly recommend TIMI as we have been very pleased here and feel that we have the right set of skills when going into the business world".
Konstantinos
(IMI - Brussels)