Teaching Philosophy
---
The International Management Institute constantly strives to deliver top quality business education to foster and develop the entrepreneurs of tomorrow. We achieve this through continuous academic reviews and feedbacks from experts and industry. The highly qualified and experienced faculty members make the courses very interesting and interactive for the students to learn in an environment of continuous engagement.

Teaching in small student groups allow professors to address to individual needs of the students. Interactive teaching, group and personal assignments, enable students to obtain a firm grasp of the subject matter taught in the class.

To help students understand complex business and management theories, the courses are delivered through a scientifically designed Case Study Method. This practical approach to learning involves studying and solving actual business problems. Most often cases are solved through a role play mechanism to ensure complete participation in the class.


ALUMNI SPOTLIGHT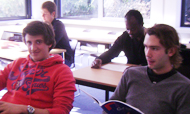 "We are fortunate to find TIMI as it offers a wide range of interesting business courses.
Compared to other universities, TIMI has a warm environment with many students coming from different nationalities and backgrounds.
We would certainly recommend TIMI as we have been very pleased here and feel that we have the right set of skills when going into the business world".
Konstantinos
(IMI - Brussels)