Quality Orientation
---
Partnering students in their Learning
The globalized world of today is more dynamic and competitive in nature, wherein the flow of right information to the right direction and at right time, is the key to success.

As per our academic policy, we are required to constantly upgrade, modify and transform our courses to ensure that we are in sync with the current management developments. And in order to ensure qualitative business education we regularly take valued inputs from various internationally renowned educationists and academicians. Keeping with the times, we as an institution, constantly customize our program to meet the ever-changing demands of the business community. More than ever, we are developing and exchanging ideas together with nationally and internationally renowned organizations to improve our academic curriculum.


Industry Exposure
TIMI has made company visits an integral part of its curriculum. This helps the students to generate business contacts and liaison with the right people in different organizations to help them secure internship opportunities or participate in live business projects. The emphasis is to achieve a practical approach and generate further interest and learning opportunities for students. Through our unique practical-driven approach to education, students get involved more into our corporate grooming process and explore solutions to a variety of contemporary business related problems.


Student Teams undertaking Consulting Projects
Our students, under the guidance of our faculty members, are exposed to live consulting projects. The resultant reports are published as an academic literature or presented to the concerned corporation as a consulting report. This helps in boosting the confidence of the students, many of whom end up taking up independent consulting assignments soon after graduating from the institute.


Customized Executive Development Programmes
The International management Institute undertakes customized training and development workshops, symposiums, conferences, and other short term program as per the needs of the various institutions and corporations. Globally renowned consultants and trainers specializing in certain domains are hired to undertake such programs on a case specific basis.

Typically, participants in these programs are identified by their organizations. They usually have expertise in one or more functional areas or may already be leading organizations that are in the process of expanding. Participants also include entrepreneurs, presidents, and owners of small companies with growth potential. After attending the executive development program at TIMI, participants gain an understanding of critical functional areas and their interconnection, as well as develop skills needed to lead cross-functional teams. In addition, we also organize cross-cultural business tours to other continents and accept participants from around the world in our summer program.


ALUMNI SPOTLIGHT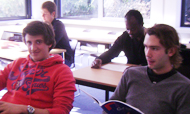 "We are fortunate to find TIMI as it offers a wide range of interesting business courses.
Compared to other universities, TIMI has a warm environment with many students coming from different nationalities and backgrounds.
We would certainly recommend TIMI as we have been very pleased here and feel that we have the right set of skills when going into the business world".
Konstantinos
(IMI - Brussels)